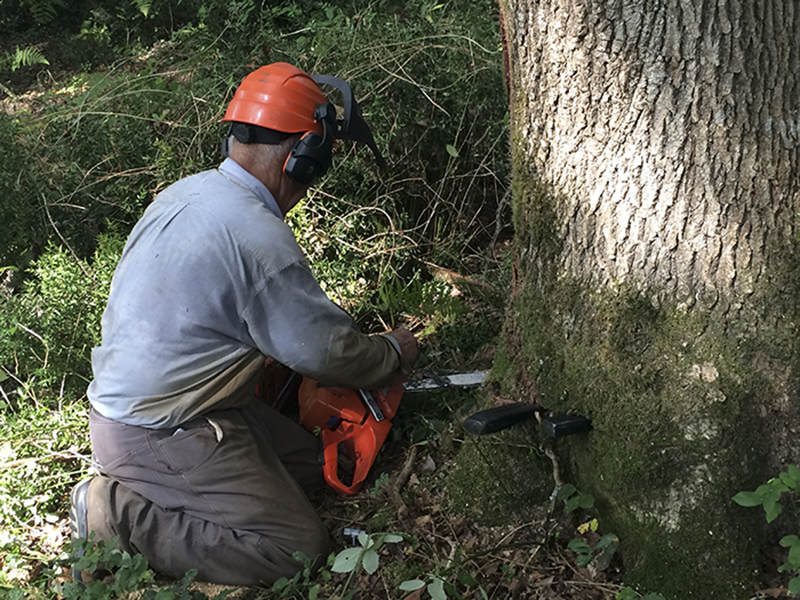 "We are one of the few European parquet manufacturers that carries out the entire manufacturing process in its facilities, from forest management of the trunk to the final finish"
We manage European forests in accordance with the principles of sustainable development, maintaining their biodiversity, productivity and regeneration capacity
Only 80% of what is produced is cut from a self-sustaining forest year (for every tree cut down, at least one other is planted). Thus, every year there are more and more trees. Consuming wood from these forests helps maintain and care for them.
We buy complete forests in which different species and different qualities of wood coexist: European white oak, European red oak of American plant, Beech, Ash, Walnut, Castaño, Lawson and Poplar. We manage and classify each species and its quality depending on the use to which it is to be put.
From the forest, we carry out forest and natural environment management that is respectful of the environment . We proceed to a felling and classification of the trunks that avoid the deforestation of the mountains to protect the ecosystem and biodiversity. Our objective is the sustainability of the forests, ensuring reforestation and carrying out forest exploitation in accordance with sustainable development. This care of the forests ensures an active pprevention of forest fires.
We are specialists in European oak, both white oak and American red oak from European plantations. European white oak, Quercus Robur, also known as carballo in Galicia, carbayu in Asturias and cajiga in Cantabria, and Quercus Petraea or sessile oak, makes up most of our production, both structural wood and solid board and flooring.
We also manufacture a smaller quantity with Quercus Rubra, better known as American red oak or boreal oak, but from European plantations. American red oak is widely used in the funeral industry for the manufacture of coffins, with the characteristic reddish tone of its wood.
We supply oak trunks for the lumber industry. We have access to the purchase of plots in the mountains so we can carry out comprehensive forest management. We go to auctions so we can offer a competitive price by eliminating intermediaries when buying oak logs.